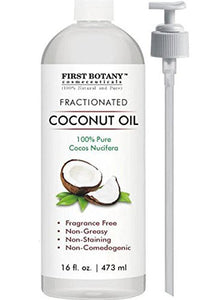 Fractionated Coconut Oil 16 fl. oz - 100% Natural & Pure MCT Coconut Oil for Hair, Skin,and Aromatherapy Carrier Oil, Massage Oil,Best Skin Moisturizer – UV Resistant BPA Free Bottle
Regular price
Sale price
$ 13.95
---
First Botany Cosmeceuticals embarked on a mission to make beauty simple, smart and safe for all ages and genders. We craft our products to give you the amazing results you love using the best and thoroughly researched ingredients. Our goal is to constantly search the best ingredients, anti-oxidants and create a safe, non-toxic world of Cosmeceuticals. We love our customers and have results-driven products backed by satisfaction of our consumer. We promise to deliver only the safest and most exotic products to your door and provide you with a product that you can trust. We hope you love our products as much as we do! We strive for Unparalleled and Coherent Performance. We are profoundly committed to meet Consumer needs & harbor continuous Customer satisfaction.
Our Extraction Process
We start off with fresh coconuts. We hand pick good quality of coconuts to bring you the best oil. Next, we extract rich, valuable oil and isolate capric and caprylic acid from unwanted fatty acids and almost all the long chain triglycerides are removed, - a unique process known as "fractionation". The end result is a highly concentrated oil that promotes antioxidant action for healthy hair, skin and nails. Best of all, our oil is Hexane-free, Fragrance Free, Non- Greasy, Non- Staining and Non-comedogenic.
Advantages of Our Coconut Oil:
Highly Recommended for use in any Cosmetic uses.
Deep Moisturizer and Unclog Pores
Natural, Paraben Free, Phthalate Free
One of the hottest Carrier Oils on the market today!
Odorless, Colorless & Fragrance Free. Does not stain and easily washes out of clothing and sheets
Lightweight moisturizer
Coconut oil can be used as a moisturizer ,it is made of saturated fats with good amount of luric fatty acids, it contains vitamin E which protects your skin for radical damage.  That is the reason coconut oil hydrates your skin. It naturally clears away dead skin cells allowing better complexion. It sinks deep into cells and softens your skin.
Also For Curly Hair
Dull and frizzy curls can be a major bummer, coconut oil helps to return luster back onto your hair. You can also get rid of split hair problem. Just allow our coconut oil to sit on your hair for a little longer time. You will love the results you get. Your hair will be easy to detangle, it will look tempting and shiny!
Massage Oil
Coconut oil can penetrate skin and it provides vitamin E. This is the reason coconut oil can be an excellent oil for massage. It consists of anti-microbial agents like capric acid and luric acid which protects your skin against microbes.Also, it doesn't let moisture escape from your skin thus protecting it from cracking and drying. Consistent use of this oil with better diet can help to reduce your acne too.
Try Our Coconut Oil Now and Start Revealing Your Confident, Beautiful Self!
Premium Coconut Oil - It is a fraction of the coconut oil from which almost all the long chain triglycerides are removed, thus leaving mainly the medium chain triglycerides and making it a great oil. It is Odorless, Colorless and No Greasy Feelings, does not stain and easily washes out of clothing and sheets. Does not become solid like regular coconut oil but keeps all the great properties. It has very long shelf life.
Multi-Purpose Uses: Fractionated Coconut oil has numerous benefits making it Ideal for a lot of Skin care and Hair Care DIY recipes.
Highly Trusted Brand: Guaranteed to be 100% amazed with results or money back.